Shopping Cart
Your Cart is Empty
There was an error with PayPal
Click here to try again
Thank you for your business!
You should be receiving an order confirmation from Paypal shortly.
Exit Shopping Cart
Experiments in Diversity through Storytelling
My brother, Shay, is an excellent artist.
His recent sketch was done while he was thinking about the complexity of all living beings.
I won't say more. Art does its best work when allowed to speak personally to its audience.
I hope this speaks to you.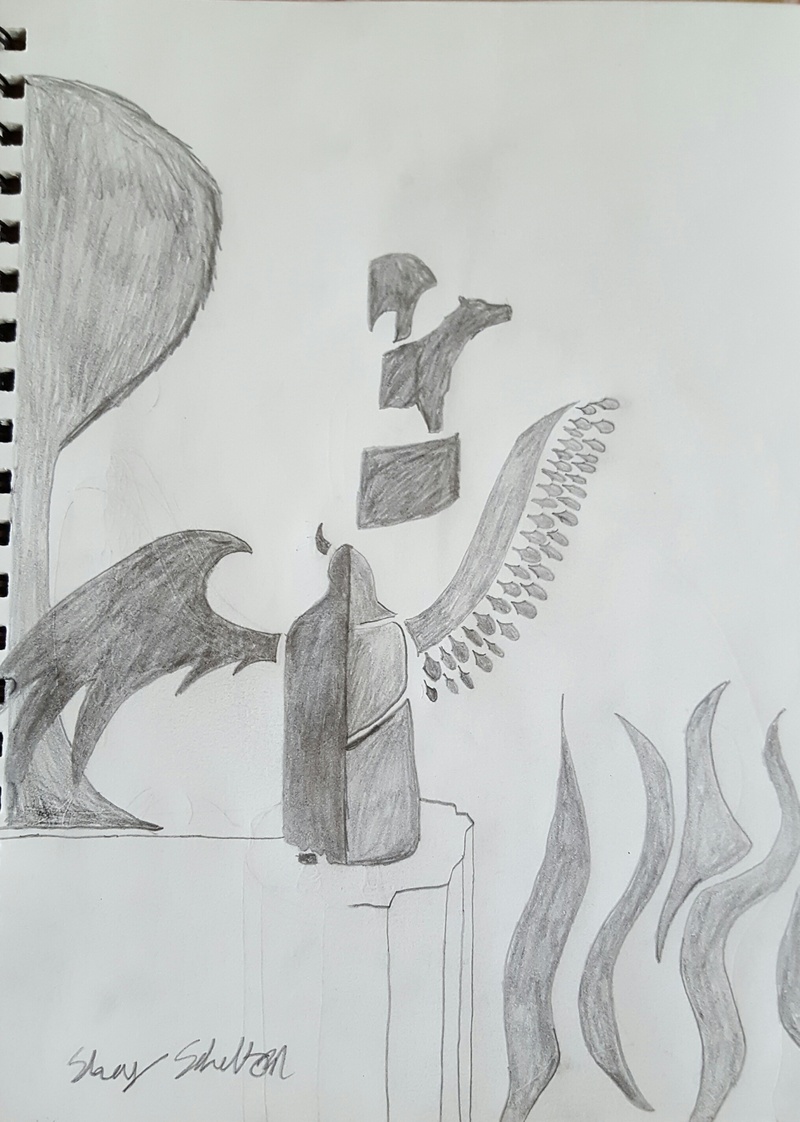 Thank you, Shay!

About a week ago my girlfriend of over a year and I broke up.
It was mutual, and I accepted the fact that we just didn't work. After that, stuff got really crazy.
I finally saw what a terrible situation I had put myself into. Not being in the situation anymore kind of make the situation clearer. Things were not good. Life was not good. I was not good.
Now, though, I'm starting to get back on my feet. The transition is tough because I lived with her, and really did care fore her..., but I've had a lot of support and made a lot of new friends. I'm sorry to anyone that I cut off throughout the relationship, but I was just trying to make it work; and she and I had completely different life styles.
Eventually I just became embarrassed of what I had become. I lost myself in the pursuit of trying to make my relationships work. Even when my girlfriend made it obvious that she didn't care anymore, I just kept trying to make it work. I was disgusted by myself. I knew it was over, but I kept trying because I cared so much.
Bottom line, I have had a stupid year.
But I'm really looking forward to the future. I hope I can avoid being stupid for a little while, and show the world what I'm all about. No more slacking.
Time to make a name for myself; and I have plans. 
Thank you to everyone who's had my back and has been here for me.
I don't make the best decisions sometimes, but I have my moments.
I'm planning to make sure the rest of the year is filled with mostly good moments.
I'm really tired of being told that I'm too positive and happy of a person.
I'm sorry if I've decided that I just don't have time for negativity to be a part of my daily routine. I honestly just really enjoy being happy. It's pretty alright.



All this craziness happening in the world today, though as saddened as I am and empathetic towards all the family's and individuals struggling, there is still good happening. I personally just want to focus on that. As they say... you do you, and I shall do me.




I'm not void of sadness, anger, empathy, ect.. I just like to keep those things to myself (and my family on occasion) (and also Facebook sometimes) haha.




Sometimes, though, sharing my positive view and happy energy is how I can help, how I can take action with my empathy.




And sometimes I need to do it for me.




Because I just really enjoy being happy.




It's pretty alright.


Shay has written and entered his short story Tonight you Die; Tomorrow you Wake, into the Vendetta Short Story Competition on Inkkit. We invite you to head on over and read it. If you find it sufficiently frightening, give it a vote.




Here's a short summary:




Lieutenant James Harwood is sick of sitting around doing paperwork and wants to go chase bad guys. However, when the danger comes to him, hunting clues might be what kills him. Or worse….

Follow this link to read the rest.




Tonight you Die; Tomorrow you Wake by Shay Riley Shelton

http://www.inkitt.com/stories/41190?utm_source=shared_web




In the meantime, Shay is working on his first horror screenplay. We plan to brave production some time next year.

Stay tuned!


By: Jory Shelton




 

When I was a boy I believed in many things. I thought Santa was real, I thought I would always love Power Rangers, and I thought that the hazard button on the car would turn it into a plane.

 

One thing that I have found most interesting among all of the sort-of silly things I believed as a child was my belief that what people said is what they meant.

 

I am twenty now, and I still find the whole idea of saying something while implying something else--or meaning another thing entirely--incredibly fascinating. From the simple, "I'll be there soon" when it turns out to be four hours, to the more complex, "I love you".

 

Life just seems so unnecessarily complex sometimes.

 

I'm writing this right now because I'm single, bored, and hungry for a good story that really strikes my fancy. I have been living day to day dreaming of a world where I can get a job, do great things, make good money, and have a family to support. As I sit here thinking, like I do most days, about why I don't have these things going for me just yet I ponder; if people were to mean what they say, then I would have all of these things. You know, if that man who stopped me on the street about a job that paid twenty dollars an hour had really meant what he was dishing out, and if that pop-up on my computer actually meant that I won one hundred thousand dollars.... and then there is love. Romantic love, to me, is one of the single hardest subjects to justify. Saying something about a job is one thing, but putting someone's heart and soul on the line for something that no one can be absolutely sure of, now that just seems crazy.

 

See, the subject of this inquiry, this questioning quest, is maybe to you a simple, "why do we say something that we just flat out are not sure of?" Maybe that's what it is to me too. But here's what I have learned through living, breathing, and wondering.

 

People say many things, often we just say something to say something. Perhaps if words only came with struggle, as they do for my uncle, we would be more selective and real, as it is with my uncle. But most of us use words too easily and there isn't always a real belief to back up our words. So anytime to you talk to someone just remember that they are (almost always) equally as sure about what they're saying as you are about what you're saying. Everyone is on the same page, some people just don't accept that.

 

We are all equal in every way and in every word, believe that.

 

0

/